30% energibesparelser i emballagevirksomhed


Et engelsk firma, som producerer emballage til fødevareindustrien, besluttede at udskifte et HFC kølesystem med en mere bæredygtig løsning baseret på naturlige kølemidler.
Ved at installere en 300 kW CO2 brine chiller til processkøling fik de både en bæredygtig løsning og 30% energibesparelser.
Løsningen har vundet ACR News Award 'Chiller of the Year 2022'.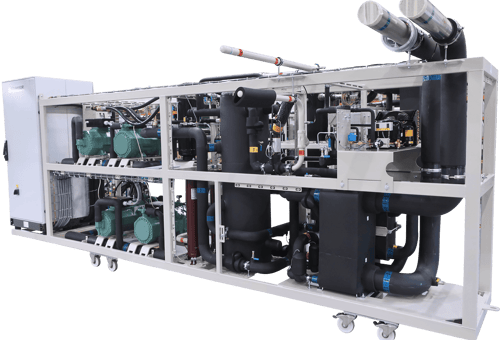 Fakta
Slutbruger: Engelsk emballagevirksomhed
Segment: Fødevareindustri
Kunde: Greencold Limited
Baggrund: Udskiftning af køleløsning baseret på HFC med en bæredygtig løsning baseret på naturlige kølemidler
Produkt: CO2 brine chiller, gaskøler og kabinet
Specs: SteelX MT only 4x0
120.000 kWh
energibesparelser og 18.720 m3 mindre vandforbrug
om året
Resultater


- 30 % energibesparelser svarende til 120.000 kWh årligt
- 18.720 m3 mindre vandforbrug årligt
- Skifte fra HFC til CO2 som kølemiddel svarer til en reduktion i drivhusgasser på 600.000 kg CO2
(Global Warming Potential GWP for CO2 =1, Global Warming Potential for HFC=4,000)
Vi har et godt partnerskab med Advansor og er meget tilfredse med deres tekniske rådgivning. Vi valgte Advansor, fordi vores kunde ønskede en løsning baseret på det naturlige kølemiddel CO2 og Advansor er her en ledende leverandør. Vores kunde ønskede en løsning baseret 100% på et naturligt kølemiddel som led i deres mål om nul-emission drift i 2040. Både vi og vores kunde er meget tilfredse med løsningen, som også giver 30% energibesparelser, og samtidig har vi fået en god service og høj kvaliet i alle leverancer. Simon Andrew, Greencold, Managing Director